Punkrock på Lorteøen - Friday 23 October
Posted by PP on 15/10/09
Previous
Next
More punk rock in Denmark. The scene is growing, great stuff. This time around I'd like to invite everyone to Club Angry Music on October 23rd at Beta (Amager Kino), where Sweden's Nemas will treat us to a healthy dose of sing alongable melodic punk adhering to the best So-Cal punk bands, while Germany's Phlegmatix bring their Bouncing Souls, No Use For A Name, Bad Religion mixture over as well.

Additional support comes from local acts Stars Burn Stripes and Øregas.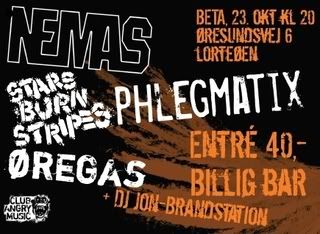 See you there? Hell yeah.